Poster Presentations /
Présentations sur affiches
Space has been allocated for a diverse collection of scientific posters. Participants will have the opportunity to present their latest research, clinical studies or case presentations in poster format. Two days of poster presentations are scheduled for Friday, June 30 and Saturday, July 1, 2000. Dedicated time will be scheduled for authors to host their posters.
Les congressistes pourront présenter sur affiches les plus récents résultats de leur travaux de recherches, études cliniques, ou études de cas. L'exposition des affiches s'étalera sur deux jours : vendredi 30 juin et samedi 1 juillet 2000. Des périodes spécifiques seront réservées aux auteurs pour la présentation des affiches.
Technical Exhibits /
Exposition technique
Once again, CDA will host one day of technical exhibits presented on Thursday, June 29. (Note: In accordance with CDA policy, product samples will not be available for distribution on site. Registrants should not ask company representatives for samples at the meeting on site. However, company representatives are permitted to send samples directly to dermatologists' offices following the meeting.)
À la demande générale, une exposition technique aura lieu le jeudi 29 juin 2000.
(NB : Conformément aux politiques de l'ACD, il sera interdite aux représentants des sociétés de distribuer sur les lieux du congrès des échantillons de produits. Les congressistes ne doivent pas demander qu'on leur remette sur place des échantillons. Les représentants pourront toutefois en faire parvenir à leur cabinet après la rencontre.)
CME / Maintenance of Certification Accreditation Crédits d'EMC et le programme du Maintient du certificat
Application for The Royal College of Physicians and Surgeons of Canada Maintenance of Certification program has been made. The credit rating(s) assigned to the educational sessions at the meeting will reflect the educational value of the program.
The American Academy of Dermatology certifies that this educational activity has been recognized for 18 hours of AAD Category 1 credits and may be used toward the American Academy of Dermatology's Continuing Medical Education Award.
Le demande de crédits du programme du Maintient du certificat a été présentée au Collège royal des médecins et chirurgiens du Canada. Les crédits seront attribués aux séances du programme en fonction de leur valeur éducative.
L'American Academy of Dermatology atteste que cette activé éducative donne droit à 18 heures de catégorie 1 et est admissible en vue de la Continuing Medical Education Award de l'American Academy of Dermatology.
Abstract Publication /
Publication des résumés
Accepted abstracts will be published in the Journal of Cutaneous Medicine and Surgery's Meeting Guide, distributed in June 2000.
Les résumés acceptés seront publiés dans le numéro spécial du Congrès du Journal of Cutaneous Medicine and Surgery, à distribuer en juin 2000.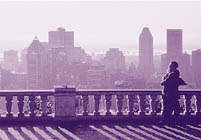 Trainee Awards /
Prix des stagiaires
The Canadian Association of Professors of Dermatology is pleased to announce the CAPD-La Roche-Posay trainee awards for the upcoming CDA meeting. Three awards will be given to recognize excellence in presentation of a paper at the Residents' Forum, and the CSID meeting and for a poster. The purpose of the awards are to highlight the academic pursuits of trainees and their commitment to excellence in dermatology.
L'Association canadienne des professeurs de dermatologie a le plaisir de vous annoncer qu'elle se joint au groupe La Roche-Posay afin de présenter trois prix lors de la réunion de l'Association canadienne de dermatologie. Ces prix seront donnés pour reconnaître l'excellence d'une présentation lors du forum des résidents, lors de la réunion de la Société canadienne de recherches en dermatologie et pour un affiche. Le bût de ces prix est de souligner l'intérêt académique des résidents et leur participation à l'excellence en dermatologie.
Language / Langue
Simultaneous interpretation will be available during Plenary Sessions on Thursday, June 29, Friday June 30 and Saturday, July 1, 2000.
L'interprétation simultanée sera disponible durant les séances pléniares du jeudi 29 juin, vendredi 30 juin et samedi 1 juillet 2000.