Dr Bernard Ackerman -
Royal College Speaker


A. Bernard Ackerman, MD, has devoted his professional life to advancing medicine, dermatology and general pathology in particular, through the discipline of dermatopathology, which he regards as a microcosm and as a vehicle for making the world a more vibrant, rarified and human place.



A. Bernard Ackerman, MD, a dédié sa vie professionelle à l'avancement de la médecine de la dermatologie et de la pathologie générale en particulier, en utilisant la discipline de dermatopathologie, qu'il voit comme un microcosme et un véhicule pour tranformer le monde en un endroit plus vibrant, raffiné et humain.


Dr Harold Brody


Dr Harold J. Brody is President Elect of the American Society for Dermatologic Surgery and is Clinical Associate Professor of Dermatology at Emory University School of Medicine in Atlanta. He is the author of over 60 publications as well as the textbook, Chemical Peel and Resurfacing, published by Mosby. He has been both past director and instructor in courses on dermatologic surgery over the last 15 years. He has previously been Senior Editor of The Journal of Dermatologic Surgery and is past President of the Atlanta Dermatologic Association.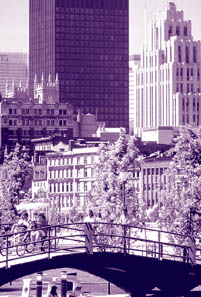 Le Docteur Harold J. Brody est président-élu de la American Society for Dermatologic Surgery et professeur adjoint de clinique en dermatologie à la faculté de médecine de Emory University à Atlanta. Il est l'auteur de plus de 60 publications et du traité Chemical Peel and Resurfacing publié par Mosby. Au cours des 15 dernières années, il fut directeur et instructeur de plusieurs cours de chirurgie dermatologique. Il a été éditeur principal du Journal of Dermatologic Surgery et est le président sortant de Dermatologic Association d'Atlanta.


Prof. An Goossens


Prof. Goossens is a pharmacist and a PhD in Medical Sciences. She is a professor at the Faculty of Medicine and the Faculty of Pharmacy of the Catholic University of Leuven, Belgium. She interned under the direction of Dr Alexander Fisher at NYU. In addition to her involvement in the Contact Allergy Unit in the Department of Dermatology of the Sint-Rafael University Hospital, Prof. Goossens is president of the European Environmental Contact Dermatitis Research Group, and a member of various societies devoted to the study of contact dermatitis. She is a prolific author who has published numerous journal articles and book chapters. She sits on the editorial board of the journal "Contact Dermatitis."



La professeure Goossens est pharmacienne et détentrice d'un doctorat en sciences médicales. Elle est professeur à la faculté de Médecine et à la faculté de Pharmacie de l'Université. Catholique de Leuven, Belgique. Elle a complété un internat clinique sous la direction du Dr Alexander Fisher au NYU. Outre sa participation active à la clinique des dermatites de contact du départ ement de dermatologie de l'hôpital universitaire Sint-Rafael, la professeure Goossens est présidente du European Environmental Contact Dermatitis Research Group et membre de diverses sociétés dédiées à l'étude de la dermatite de contact. Auteur prolifique, elle a publié de nombreux articles et chapitres de livres. Elle siège au comité éditorial du journal Contact Dermatitis.
Prof. Yves de Prost


Prof. de Prost is currently Chief of Dermatology at the Hôpital Necker, Director of Eduaction at the Paris -5 University, President of the International Society of Pediatric Dermatology. His research interests lie in the area of immunosuppression, atopic dermatitis, alopecia areata, epidermolysis bullosa and childhood exanthems.



Le professeur Yves de Prost est actuellement chef du service de dermatologie, Hôpital Necker, directeur de l'enseignement à l'université Paris 5 et président de l'International Society of Pediatric Dermatology. Il oriente ses recherces sur l'immunosuppression locale, la dermite atopique, la pelade, les épidermolyses bulleuses, et les exanthèmes de l'enfant.


Dr Richard Scher


Dr Richard Scher is a Professor of Clinical Dermatology for the College of Physicians and Surgeons, Columbia University, New York, NY. His primary area of interest is in the diagnosis and treatment of nail disorders and nail surgery. Dr. Scher is a graduate of Howard University, College of Medicine; intern, Maimonides Hospital Division of State University of New York, Brooklyn, NY. His dermatology residency was completed at New York University Medical Center in New York City. As of March 20, 2000 Dr. Scher will become the President of the American Academy of Dermatology and has spoken on several occasions at CDA.



Le Docteur Richard Scher est professeur de dermatologie clinique au Collège des médecins et chirurgiens de l'Université Columbia, New York, NY. Son intérêt et son expertise demeurent le diagnostic et le traitement des maladies des ongles et la chirurgie unguéale. Le Dr Scher est diplômé de l'Université Howard, Collège de Médecine; interne à l'Hôpital Maimonides, Division de l'Université d'État de New York, Brooklyn, NY. Il a fait sa résidence en dermatologie au Centre Médical de l'Université de New York dans la ville du même nom. À partir du 20 mars 2000, le Docteur Scher deviendra le président de l'American Academy of Dermatology. Il s'est adressé plusieurs fois à l'ACD à titre de conférencier.