---
Division of Dermatology
University of British Columbia
Vancouver Hospital
& Health Sciences Centre
Vancouver, Canada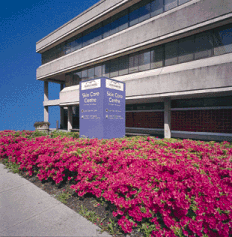 A PARTNERSHIP OF the Vancouver Hospital & Health Sciences Centre and the University of British Columbia Division of Dermatology, The Skin Care Centre strives to provide a scope of services that will continue to position The Centre as the major dermatologic referral centre for British Columbia and an international leader in basic research, developmental therapeutics, and medical education.
THE SKIN CARECENTRE STRIVES for excellence in all of its programs of patient care, teaching, and research. It acknowledges its responsibilities as a leader nationally and internationally. We share a commitment to patient focused care. Within this framework, the general objectives, all of which are of equal importance are:
To provide a wide range of dermatologic services that will maintain the The Skin Care Centre as a major dermatologic referral centre for the entire population of British Columbia.
To provide secondary care referral services for the Greater Vancouver area and British Columbia to ensure a mix of programs and patients appropriate to the centre's patient care, teaching and research programs.
To initiate and conduct research related to the promotion of health and care of individuals with dermatologic conditions.
To participate in activities designed to promote the general dermatologic health and well-being of the people of British Columbia so far as circumstances may warrant.
To provide leadership in the education and professional development of health care providers.
To cooperate with other agencies, including voluntary health agencies, educational institutions and other clinics in the pursuit of these goals and objectives and to assist them in meeting their goals and objectives where possible.
To provide an environment in which employees may grow and develop job satisfaction and work safely to achieve the mission of The Skin Care Centre.
---
Top of Document
The Skin Care Centre Brochure or Homepage
DermWeb