Optimal Drug Therapy in Dermatology
THE ROLE OF CONTEMPORARY CLINICAL GUIDELINES
The contemporary emphasis on cost-control has compelled health caregivers – both individually and as professional groups – to re-evaluate their attitudes and practices regarding patient care. Essentially, the current dilemma can be summarized as follows: How do we continue to provide quality care, while keeping costs under control?
The concept of Optimal Drug Therapy is basically a response to this conundrum; under this concept, the efficacy, safety and cost-effectiveness of a particular therapy are carefully weighed and balanced according to each patient and his/her clinical situation. In other words, clinical consideration is given to the needs of society at large (cost-effectiveness), while ministering to the needs of individual patients (efficacy, safety).
Today's clinical guidelines have crystallized these criteria (efficacy, safety and cost-effectiveness) by formulating algorithms with indications for first-, second- and third-line therapies. Although these indications would appear to be clear-cut, in practice the application of clinical guidelines is often a complex and highly individualized process.
Individualizing Therapy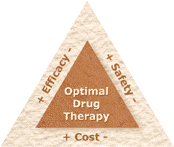 As an illustration of this individualized process, consider the way "cost-effectiveness" of therapy is assessed.
It is well known that cost of treatment is an important factor for government (formularies), group (insurance companies) and individual (patients) payors. However, it should be noted that the pharmacoeconomics of a drug does not merely take into account its purchase value; of equal importance is its efficacy and safety. In other words, a drug may be inexpensive but:
Is it effective? (Treatment failures, relapses or recurrences could necessitate further treatment)
Is it safe? (Adverse effects may necessitate the use of other drugs for symptom control, or may trigger noncompliance)
Thus, cost-effectiveness of therapy can only be determined by weighing its actual cost, along with the other criteria involved – namely efficacy and safety – and assessing their impact on the patient and his/her clinical situation.
Compliance
There is a fourth factor implicit within this Optimal Drug Therapy pyramid: compliance or patient acceptance. Once again, therapeutic compliance is related to all the preceding factors: If a drug is efficacious, safe and affordable, there is a higher likelihood of compliance. On the other hand, if a drug does not satisfactorily meet one or more of these criteria, it needs to be asked: What is the cost of noncompliance?
Emergency room visits, return visits to the physician, new drug prescriptions, and secondary complications may all result from noncompliance with the initial therapy. Apart from the human consequences, the cost of noncompliance from a macroeconomic standpoint ranges from 7 to 9 billion dollars a year, according to recent estimates.*
Applications
In the following program, discussions surrounding Optimal Drug Therapy are aimed chiefly at promoting comprehensive care of our patients – that is, administering the right treatment, with the right dose, for the right amount of time and at the right price.
* Coambs RB, Jensen P, Her MH, et al. Review of the scientific literature on the prevalence, consequences, and health costs of noncompliance & inappropriate use of prescription medication in Canada. Pharmaceutical Manufacturers Association of Canada, Ottawa, Ontario, 1995.